CubeWerx solutions for
local, state and federal organizations
Government
Government is being called upon daily to be more transparent, efficient and accountable. CubeWerx is helping departments at all levels achieve these goals by providing standards based tools and hosted web services that improve decision-making, service delivery and citizen engagement.
Governmental organizations are responsible for collecting and managing most of the world's geospatial data. Efficiently delivering data and services to a vast and diverse user base while maintaining accuracy, security and quality of service is a daunting task. CubeWerx technology and services eases that burden by providing a range of hosted and in-house solutions that take care of all the heavy lifting.
We literally wrote the book on open standards and delivering data via open web services. Contact us to find out how we can help your organization
Spatial Data Infrastructure
CubeWerx has been at the forefront of web mapping and the SDI movement since its beginnings in the early 1990's. We have helped governments at all levels around world build architectures and solutions that meet the most demanding needs.
As Amazon technology partners, CubeWerx works closely with the AWS team to help our clients achieve their goals. From cloud migration assistance to hosted services, we have a solution that fits your needs.
We let you focus on the business of government. We can securely manage your entire geospatial infrastructure in the AWS cloud and create lightning fast web services to get your data to all stakeholders.
"The innovation I've seen in your software, in terms of the fast tiling system, web map service chaining, web upload, register and activate process to refresh tiles, the option for direct upload by imagery suppliers/contractors, and the lightning performance speed are all aspects that can directly benefit our service and would also be of great benefit to any subsequent national system. Such a service in place for all Canadian jurisdictions would be ground-breaking."
Learn more about CubeWerx solutions for government in this case study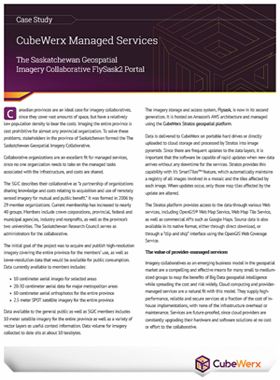 Contact Us
Let us show you how CubeWerx can help your organization
Drop us a line and we'll get in touch to discuss your specific requirements
Contact Us